I thought I wouldn't see another Polyphemus Moth until the following year, but sometimes things don't turn out the way you plan. The result of the mating moths were many eggs dropped on the deck of my house. I collected some of the eggs and put them at the bases of trees around the yard. I also kept some for myself.

Quite a few caterpillars hatched, I released most of them, but kept a few. I mainly fed them Maple leaves. Here's what one looked like at one week of age.

Caterpillars eat a lot and grow quickly (they also poop a lot). I kept mine in the same plastic-type terrarium container as the cocoons.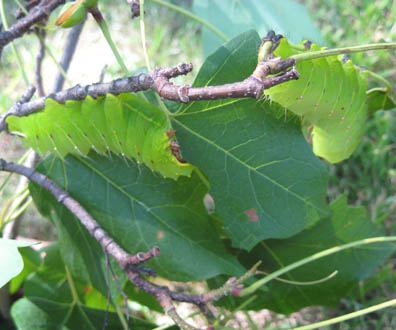 Three weeks after hatching, the caterpillars were ginormous. About a week after that, their eating slowed down and they began making cocoons.
Click here to see a huge caterpillar


It took about 10 weeks to go from an egg to an adult moth and by early September moths started emerging from their cocoons. Here's one drying its wings on the inside of the lid of the terrarium it was kept in.

Mission accomplished! This Polyphemus Moth is ready for the world (note its white cocoon in lower left corner).